Adoption of Halal Cosmetics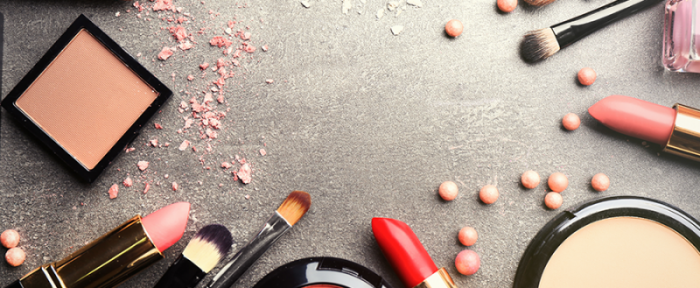 DR. AZMI ABD AZIZ
Chief Technical Officer,Global Haltech

Mainstream cosmetics industry focusing on developing halal-certified products
Introduction
The GLOBAL halal cosmetics market size will increase as the global Islamic population is willing to pay premium prices for halal-certified beauty prod­ucts. It will continuously drive product demand.
Growing awareness of the use of cosmetic products is also likely to be one of the key fac­tors driving the market.
The global increase in Muslim populations and purchasing power has created a new demand for halal cosmetic product develop­ment. Since Muslims constitute a considerable part of the world population, the mainstream cosmetics industry focuses on developing halal-certified products.
Halal is defined as legitimate or acceptable based on Islamic core values. Muslims are expected to avoid using food, products and ser­vices which contain elements of alcohol, riba, and animal remains, especially in cosmetics.
The current global Muslim is 1.8 billion, and it is estimated that by 2030 Muslims will constitute 27 .5 per cent of the world's popula­tion (Reuters & Dinar Standard, 2018).
Women in Malaysia are regarded as the most significant indicator of social transformation and development in society. As their status increases in the community, their economic options and resources also increase.
It means women can drive consumer spend­ing in Malaysia. Although halal cosmetics have a substantial market share, halal cosmetics and personal care products are scarce.
Today, cosmetics and personal care products are an essential element of our everyday life. Hence, Muslim consumers are confined to consuming non-halal cosmetics produced by non-Muslim manufacturers (Abd Rahman, Asrarhaghighi, &Ab Rahman, 2015).
Most of these products contain elements of pork, porcine DNA and proteins, oils, fats, lards, gelatin and other substances that may render a product non-halal (BEDB, 2018).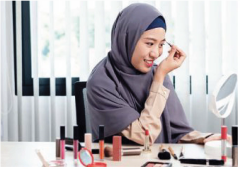 Non-Halal cosmetics
The manufacturers of non-halal cosmetics and personal care products lack religious knowledge, which indicates that despite avoiding the contamination of products by non-halal ingredients, these manufacturers cannot assure 100 per cent halalness of their products.
In short, there is increasing scepticism among Muslim consumers towards these global cosmetic brands (Mukhtar & Butt, 2012). It is also misconstrued that halal cosmetics are manufactured and offered to Muslim consumers only. Therefore, a sizeable non-Muslim consumer base is not engaged in halal cosmetic products.
Promotional activities
Companies in the market are spending big amounts on promotional activities spreading awareness on the benefits of using halal beauty products. There has also been the promotion of prestigious cosmetic brands in magazines in Malaysia.
Some prominent industry participants are Martha Tilaar Group, Clara International, Wipro Unza, Paragon Technology and Inno­vation and Ivy Beauty Corporation Sdn Bhd. Other manufacturers are Saaf Skincare, Prolab Cosmetics, TALENT Cosmetic Co Ltd and PHB Ethical Beauty.
Factors affecting the industry
In the Malaysian context, halal cosmetics have come along way since their humble beginnings nearly four decades ago (Mohezar, et al., 2016).
According to Halal Industry Development Corporation (2014), there were 100 halal­certified registered cosmetics and personal care companies in Malaysia whose net worth was US$800 million with an average growth of 24 per cent in the US$1. 72 billion cosmetics industry.
The leading halal cosmetics producers are Wipro Unza, Southern Lion, Johnson & John­son, SimplisiSiti, Clara International, Eversoft Safi, Silky Girl and Shokubutso (Low, 2017)
The demand for halal cosmetic products has gained substantial momentwn in the modem millennium. The increasing Muslim population and consumers' demand for safe, hygienic, and human body-friendly cosmetic products are tipping points for rising demand.
The halal cosmetics industry can cater to the needs of its customers due to several factors and has shown penetration among Malaysian consumers.
Halal products' consumers show a high level ofloyalty towards halal brands, and these brands are not expected to be affected due to an economic crisis (Yousef, 2010; Ireland & Rajabzadeh, 2011).
The consumer base for halal products such as cosmetics is not limited to Muslim consumers as halal cosmetics are perceived as organic, safe and clean to use by non-Muslim consumers (Homby& Yucel, 2009; Alam & Sayuti, 2011b).
In halal cosmetics, Sungkar (2008) found that the concept of halal is popular in Malaysia compared to the Middle East.
The assurance of halalness in cosmetics indicates the role of a certification authority such as JAKIM in Malaysia to control and monitor halal cosmetics production, labelling, and promotion.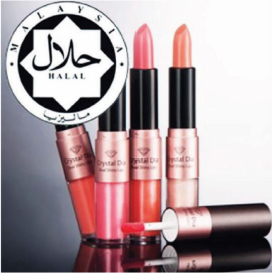 Halal cosmetic products originating from Muslim countries or within Muslim territories can shape consumer trust more quickly than foreign brands from non-Muslim countries.
Consumers who are conscious about their appearance may have a strong awareness of beauty products, enabling them to be discern­ing and enhance their social standing. Muslim consumers appear to adopt halal cosmetics based on the level of their innovativeness.
Summary
In conclusion, awareness and the importance of safe, hygienic, and friendly to the human body cosmetic products enhance a significant positive impact on halal cosmetics acceptance. Religiosity creates recognition on the aware­ness and understanding and influences the acceptance.
Conventional cosmetic products often contain keratin, albumin and placenta, which should not be allowed in halal cosmetics. These components may have certain religious excep­tions. However, cosmetics contaminated with any non-halal ingredient may result in a lack of customer satisfaction and acceptance.
Cosmetic and personal care companies should take advantage of the substantial opportunities in halal markets by tailoring consumer needs with the right marketing strategies.
Understanding the consumer's needs will help marketers and retailers survive and com­pete in the competitive halal retail industry.
Hence, it would be helpful to the survival of marketers, retailers, and newcomers to adopt the right strategies. They should also learn from past mistakes, and this can further help develop the halal industry. ⓠ